Push To Talk Communications
Solution for real-time professional communications and information sharing, connecting the workforce in Push To Talk (PTT) mode through the digital network (4G or WiFI).
Our cloud platform allows you to manage innovative communication, in any place covered by digital networks (LTE or WIFI), improving the performance of companies that need instant contact with their resources on the field, (technicians, maintenance staff, warehouse workers, healthcare professionals, watchmen/security guards, transporters, retail workers, ecological operators, etc.), in an individual or group way, integrating voice and multimedia communications , evolving the limitations of PMR private mobile networks.
Turn your smartphone into a multi-channel PTT system, like a walkie-talkie radio, but with additional features for a full digital instant messaging experience: voice communications, chat, file exchange, photos and videos, outdoor and indoor localization, geofencing, and man-down alarms.
Workers, equipped with smartphones, can be organized in groups, allowing them to communicate, collaborate and interact together with a single action instantly; or individually. Supervisors, through the Web Portal, can coordinate and interact with individual workers and teams, monitor status information, map locations, and manage emergencies in the event of an accident, favouring process and information management. The platform immediately dispatches communications and creates a historical record of them. To respect privacy, you can configure how to manage the position of workers (turn on, off, only in case of emergency).
The technological architecture ensures safety, reliability, and immediacy.
Some advantages:
immediate communications and data exchange, anywhere in the world, without limits of distance and without requiring repeaters
immediate use, without infrastructure costs and without having to pay ministerial licenses
security and protection of data and communications, under your control, to ensure corporate confidentiality
scalable and flexible system for every organization
to ensure business continuity in the event of radio network failure or DECT
compatible on Android devices (smartphone, consumer tablet or rugged) and from desktop workstations via web browser
DID YOU KNOW THAT?
In companies and businesses workers always use instant messaging apps, such as WhatsApp, to improve communication and productivity.
But the enormous danger of these apps is underestimated: vulnerabilities, unencrypted metadata, data retention on servers not directly managed, thus putting the confidentiality of personal and business data at risk.
Our solution allows you to take advantage of an instant communication system, ensuring confidentiality and security.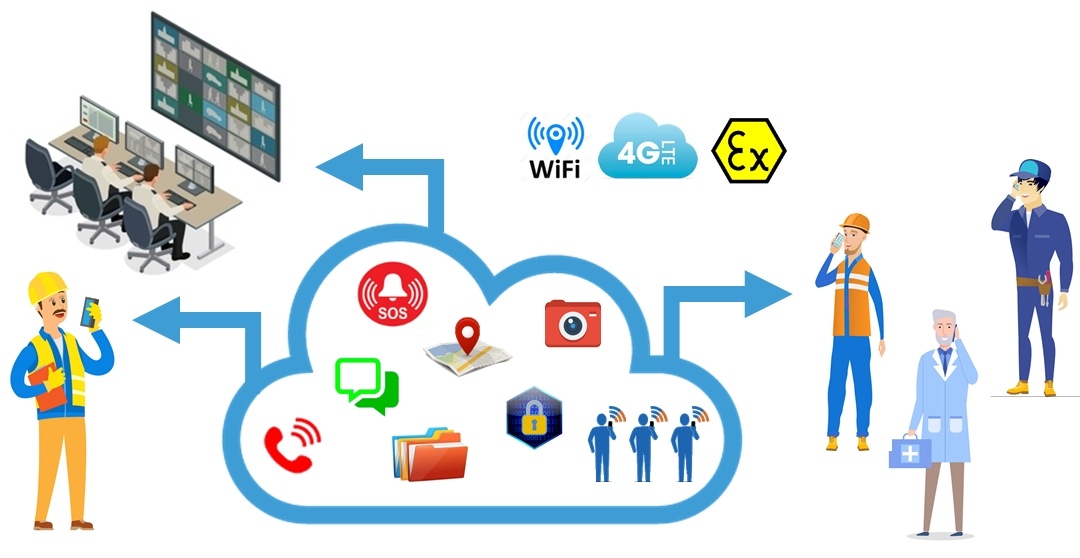 Push-to-Talk
Group communication
Private communication
Communication priorities
Multigroup listening
Storing historical communication and re-listening
Media sharing
Text messages
Documents or files
Photos
Stream Video
Location on map
Status information (connection, battery, GPS)
Man Down
Manual alarm
Idle alarm
Tilt alarm
Phone calls and text messages to emergency numbers
Alarm management from Portal
Outdoor location (GPS)
Indoor localization (beacon)
Web portal
Create groups
Create users
Assigning permissions
Real-time monitoring
Communication with users and groups
Re-listen to communications
Manage history
Centralized configuration of the service

Fill out the contact form to receive technical or commercial information from our Team